"The Dining Room" cast dishes out laughs
Drama performs A.R. Gurney comedy
Hang on for a minute...we're trying to find some more stories you might like.
"The Dining Room," performed by Oak Park High School drama students, featured an innovative technique of blending different characters' stories by leaving out standard drama components such as curtains closing or lights blacking out to signify change of scene. The audience could detect the change of the characters and the time periods by the distinctions in the dialogue.
"'The Dining Room' is a comedy in two acts surrounding a single dining room. It goes through different families, different people come and go, and it's always in this one dining room," Allan Hunt, head of Oak Park High School drama, said. "It goes through a lot of different times in history, like the Prohibition in the 20s, the Great Depression in the 30s and World War II in the 40s."
At times, cast members from the next scene would come on stage and begin acting while another scene was taking place. This technique was used to show the changing time periods and the evolution of the eponymous dining room over time.
"I think it poses a new exciting challenge for the actors and actresses, as the actor or actress must keep in mind that their job is not yet done and that they must not lose their place inside the contents of the show," sophomore Ashlynn Salzwedel wrote to the Talon.
Salzwedel was part of the cast of 13 tasked to play 75 different characters in the play.
"As opposed to other productions, usually a scene would end with a black out or seeing change or even the actors just simply walking off stage," Salzwedel wrote. "To allow for the next scene to begin, however, we only received two blackouts in the entire show the end of Act 1 and the end of Act 2."
According to Hunt, the removal of blackouts and curtain closures was part of the playwright's vision.
"The playwright came up with this idea. The usual practice in theatre is to have a blackout, and there's all this scurrying around, or there's a curtain and it opens and closes," Hunt said. "None of this will be present in our play — it's lights up and this play just goes."
In addition to the lack of blackouts, the costumes lacked flourishments in an effort to showcase the actor's talents and to simplify costume changes. According to Hunt, the cast members "enjoyed acting in the play" and "made memorable connections."
"My favorite part about "The Dining Room" was the friendships I was able to make in such a short period of time, and even becoming closer with my older friends," Salzwedel wrote.

About the Contributors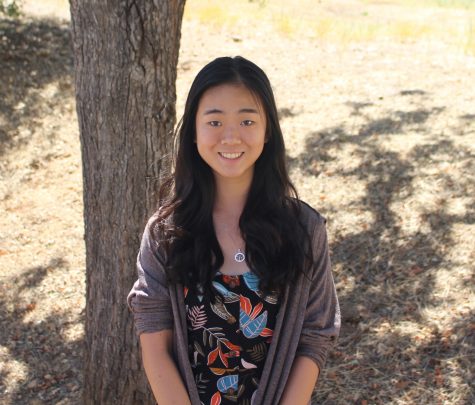 Mina Jung, Staff Writer
Mina Jung is a sophomore at Oak Park High School. She is a staff writer for the 2019-20 school year and served as a staff writer her freshman year.