Solidarity Service held in honor of Tree of Life Synagogue shooting
Community members gather to mourn those lost
As Shabbat morning services were held by the L'Simcha (Tree of Life) Congregation Oct. 27, a gunman entered the synagogue with multiple weapons, allegedly yelling "All Jews must die!" before opening fire and killing 11 people and leaving six injured.
"The attack is believed to be the deadliest on the Jewish community in US history," the Anti-Defamation League wrote in a statement.
After the news of this tragedy became known to the public, Temple Etz Chaim, also known as the Tree of Life Synagogue, held a "Community Gathering and Special Service 'In Solidarity with Tree of Life Synagogue'" at their sanctuary in Thousand Oaks.
"Please join us in unity, support, and healing in the face of this horrible, deadly act of hatred," Vice President of Social Action for Temple Etz Chaim Mark Goldstein wrote in an email to residents of the Oak Park, Newbury Park, Westlake and Thousand Oaks.
The solidarity service took place Oct. 29 beginning at 7 p.m. Upon entering the synagogue, there was a table with candles lit in honor of the 11 victims of the Pittsburgh shooting.
The room for the service was originally set up to hold around 300 people, but as seats filled quickly, members of the congregation took down the room divider in order to open up the room for more people attending the service.
"We must've had somewhere between 400-500 people here, tonight," Youth Director at Temple Etz Chaim Shannon Tepfer said. "[The service] was an amazing success and there was a great turnout."
The service consisted of prayers led by Rabbi Richard Spiegel, who began the service with opening remarks.
"We're gathered tonight to think about a synagogue with the same name as our own," Spiegel said. "We are here together this evening, all of us, to express our sadness and our sorrow on the tragic loss of Melvin Wax, Daniel Stein, Joyce Feinberg, Cecil Rosenthal, David Rosenthal, Jerry Rabinowitz, Rose Mallinger, Richard Gottfried, Bernice Simon, Sylvan Simon, Irving Younger, 11 innocent, pious, beautiful souls who did what we do: They went to shul on Shabbos morning."
Following Spiegel's remarks, United Methodist Church of Thousand Oaks' pastor Reverend John Yoon, Congresswoman Julia Brownley, Assemblymember Jacqui Irwin and City Council member Claudia Bill-de la Peña all shared speeches with those in attendance.
"I am sickened by what happened. Places of worship, whether Christian, Muslim, Hindu, or of the Jewish faith should be sanctuaries where all are welcome and should feel safe to reflect, to celebrate, to mourn and to pray," Brownley said. "Hate has no place in our community or in our country, and we will not stand by and allow anti-semitism, racism and bigotry divide us. We are a better people."
Amy Buss, a resident of Newbury Park, attended the solidarity service with her husband and two daughters.
"I'm not religiously affiliated, but when I heard the news of the shooting my heart broke and I knew I wanted to come attend this event to pay my respects," Buss said. "I think hearing about this tragedy should affect all people, regardless of their religious affiliation."
About the Contributor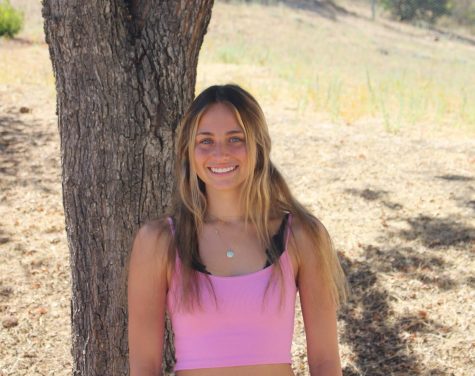 Havi Rubenfeld, Sports Editor
Havi Rubenfeld joined the Talon in the 2018-2019 school year and served as the Sports Editor for the 2019-2020 school year.