The Chabad House of North Ranch
Bistritzky: 'Every human being is responsible to be a light in this world'
Chochmah, Binah and Da'at, meaning Wisdom, understanding and knowledge. A traditional Chabad is built on these beliefs. 
Rabbi Shlomo Bistritzky opened The Chabad House of North Ranch four years ago in Westlake Village.
"My responsibilities include running the services at the temple, being there for the families during life cycle events, such as birth, funerals etc.,"  Bistritzky wrote via email, "In addition, or maybe most important I feel my job is to inspire, teach and support the community."
The Chabad House tends to collaborate with other nearby Chabad houses. These include Chabad of Thousand Oaks, Chabad of Westlake Village and Chabad of the Conejo. Residents of these communities often attend the Chabad house in their own community, as well as The Chabad House of North Ranch.
"Chabad adheres to 'Orthodox' traditions," Bistritzky wrote. "Its guiding principle is never to judge anyone and make sure that all feel welcome, regardless of their beliefs or practices."
Orthodox Judaism is a single branch of Judaism originating as a result of the innovations of Jewish practices following the Jewish Reform Movement, a movement omitting many traditional Jewish beliefs. It's primarily based on strict adherence to the law of the Torah. 
"Many people assume that Orthodox Jews judge those who don't observe tradition like them. [I am] showing them that Jews that look like me, see them and treat them as absolute equals," Bistritzky wrote.
Working alongside Bistritzky is Secretary Judi Fields. They met each other almost 20 years ago at a Yom Kippur service. Fields, however, is not an Orthodox Jew, nor does she speak or read Hebrew.
"I always thought, because Chabad was Orthodox Jewish and I wasn't, that I would never 'join' their synagogue," Fields wrote to the Talon. "But as it turns out, Chabad considers every Jew a 'member.'"
Joining The Chabad House of North Ranch requires no fees or membership dues; everyone, regardless of religious affiliation, is welcome. In addition to one hour Friday night and Saturday morning Shabbat services, the Chabad house hosts a variety of other events too. While some events include baking events and a Ladies Paint Night, others include giving back to the community.
The baking events include the Mega Challah Bake and the Babka Bake in which everyone uses their individual talents to make personalized versions of these traditional Jewish foods. Ladies Paint Night was an event in which the women of the Chabad house followed a directional art process in which they created a Hamsa hand (or the Hand of God).
"We do many community events, like our Holiday Toy Drive, where we collect and then donate gifts to children's organizations like The Friendship Circle, Support for the Kids and Los Robles Hospital," Fields wrote. "We also have our Annual Blood Drive, which provides blood to our local hospitals and blood banks."
Over five hundred toys and gift cards were donated for the Toy Drive and 150 units of blood were collected for the Blood Drive.
"However, on a daily basis, we are available to those who may have fallen on hard times, need an ear to listen or a shoulder to cry on," Fields wrote. "[The] Chabad also has food banks [and] drug rehab centers and offers counseling, parenting courses and teen camps."
Regular attendees Bruce and Joyce Sackett have been going for the past three years since being invited by Fields.
"At the time I first was going to go there I had misgivings," Bruce Sackett said. "I was brought up, first of all, in a conservative synagogue, which is less stringent than Orthodox, and then I was later on involving myself in a Reformed Temple, [which is] really not as religious as Orthodox or conservative … In order to give it a fair shot, I did go for the first time."
However, after living in Calabasas for over a decade, Bruce and Joyce Sackett finally moved to Oak Park and got involved in The Chabad House of North Ranch.
"When I moved here I didn't know anybody in the community," Joyce said. "It's just nice to belong to something. I go for Rosh Hashana [and] Yom Kippur, and I know the people. You feel comfortable."
The married couple has been attending ever since.
"We do sit in separate sections during the services which is what happens in an Orthodox synagogue or temple," Bruce said. "Once the services end, we get [back] together and have what is called a Kiddish, or a dinner."
During the holiday season, the public shopping center decorates. This includes placing a large Christmas tree directly in front of the Chabad house.
"The center owners realize that most of their customers celebrate Christmas and Chanukah, so they respectfully recognize both holidays by putting up a Christmas Tree and a Menorah," Fields wrote. "The only place to put them just happens to be in front of our Chabad house, which is fine with us."
The last leader of The Chabad Movement was Lubavitcher Rebbe Menachem Schneerson, who taught acceptance of all human beings, including religion.
"For years, world leaders and celebrities sought his council, as well as young and old, rich and poor. It didn't matter. He made time for everyone," Fields wrote to the Talon. "And although he passed away 25 years ago, he left his followers charged with continuing to spread goodness and light around the world."
According to the Chabad Organization, the belief of a Jew is "I was created to serve my Creator." This encompasses all aspects of being a giving member of society, aspiring to promote truth and morals, all while benefiting the common good. 
"As a child growing up, my only synagogue experiences were boring and non-relatable," Fields wrote. "And the Rabbi, as nice as he probably was, was not approachable. Rabbi Shlomo changed all of that for me, as did many of the other wonderful Chabad Rabbis in our community."
About the Writer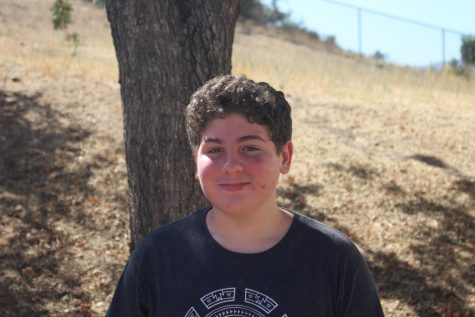 Oliver Carter, Senior Staff Writer
Oliver Carter is a sophomore at Oak Park High School. He joined the Talon in the 2018-19 school as a staff writer and is currently a Senior Staff Writer...