Construction begins for healing garden in Thousand Oaks
Memorial being built in response to Borderline Bar & Grill Shooting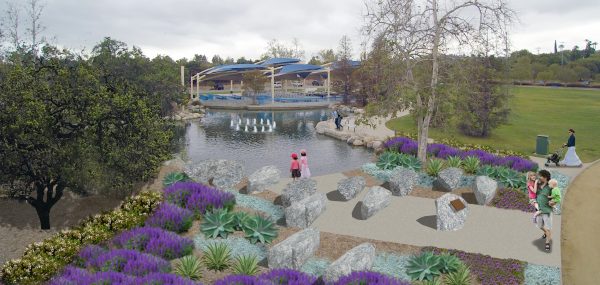 Conejo Park and Planning District describes the healing garden, or memorial for those who lost their lives at the Borderline Bar and Grill mass shooting, as a "place to pause, reflect and heal."
On Nov. 7, 2018, 12 people were killed by a gunman who opened fire on a crowd at the Borderline Bar & Grill, including Sean Adler, Cody Coffman, Blake Dingman, Jake Dunham, Sgt. Ron Helus, Alaina Housley, Daniel Manrique, Justin Allen Meek, Mark Meza Jr., Kristina Morisette, Telemachus Orfanos and Noel Sparks.
On June 25, 2019, the City of Thousand Oaks approved a grant of 250 thousand dollars with Conejo Recreation and Park District in order to provide funding for the construction of a healing garden in Conejo Creek North Park as an homage to the victims so they will be remembered.
"That is their biggest fear. That the survivors and families of the victims will be forgotten," Thousand Oaks Council member Claudia Bill-de la Peña wrote to the VC Star. "But that's not going to happen."
The construction began on Monday, Sept. 9, 2019.
According to Conejo and Park Planning District website on the project overview, "the Borderline twelve are represented by a fountain feature with twelve vertical jets centered in the existing pond which signifies the broader community."
The water is one of the three main elements of the healing garden.
"Additionally, the Borderline twelve will be signified by twelve large natural granite stone slab benches located along the plaza connecting the shoreline of the pond to an existing walkway," Conejo and Park Planning District website explained.
Senior Park Planner Andrew Mooney is the primary manager in this project. He thinks the garden's goal is to provide a passive reflection space for the community as a whole. Fortunately, he found an unused place to do so.
"The upper pond is just a passive pond," Mooney said. "There was an opportunity there to utilize the space, one being: this is a district-wide facility, very accessible [and] it has amenities for the public as a whole. 
South of the North Conejo Creek is the Thousand Oaks Teen Center, the Goebel Adult Community Center, and the Grant R. Brimhall Library.
"Just like any park, it's open to the public," Mooney said. "It's a space for all, so depending on if someone wants to go there and read a book, it's a nice, relaxing place to be be able to hang out. It's not just a dedicated memorial space, but it's for all of the community."
Other features in this healing garden include a flowering garden, two boulders adorned with plaques, a lakeside pavilion with a capacity of 400, a large specimen oak tree, a communal plaza gathering space, and a small stage.
"It brings down a larger district-wide park to a smaller kind of scale — a personal scale for an individual," Mooney said.
The park will also showcase 248 uniquely-covered pavers to represent the 248 who survived.
Mooney wanted to the victims' families to be notified about this memorial. Police Chief Tim Hagel did this and addressed each family individually.
"[It was] emotional. Tearful both for them and me," Hagel wrote to the Talon, "The toughest 24 hours of my entire existence. Life-changing for me and changed my life to a way and degree that I can never go back to the old self."
Hagel was one of the officers who worked alongside Sergeant Ron Helus in the Borderline Bar & Grill Shooting, describing the event as "apocalyptic." Helus died while saving others.
"You see, holding 12 families, strangers, in your arms all in a 24 hour period creates a bond for the rest of your life," Hagel said. "I feel their pain every day of my life. I wouldn't change it though, and I would do it again. I feel blessed as if these 12 families are all family to me now. From strangers to friends, to what I feel in my heart for the 248 survivors and those taken, is the definition of family. There is no better location in our town. I am proud of the memorial and it is a place for generations to practice peace and heal."
You can find weekly updates on this project (with photos) online at  www.crpd.org/healinggarden.