Oak Park has first 24-hour play production
Students stay overnight and shower at school in preparation
Oak Park was faced with utter "Anne Arky" when Oak Park High School International Thespian Society Troupe 6074 put on the first 24-hour play at OPHS. The play is a backstage comedy about a high school drama club preparing for their opening night of "Anne of Green Gables."
The idea of a 24-hour play is to put on an entire show with actors, costumes, a set and technical aspects all figured out in … well … 24-hours. The 24-hour play was originally meant to debut last year but was canceled due to the Woolsey Fire.
Atmika Iyer, senior and vice president of the International Thespian Society, and Camryn Counsil, junior and historian and secretary of ITS, made their directorial debut in the Oak Park 24-hour play and mentioned how crucial it is to have a hardworking cast and crew.
"I've only acted before, I've never directed, so this was a really cool opportunity that I wanted to try out. But I think the biggest lesson I learned as director is that you need a good group of dedicated kids to work with. And unless you have that, there's no point in there being a director," Iyer said.
"Anne Arky" was chosen as it matched the chaotic nature of the play's rushed schedule.
"We needed to pick the play, so a lot of it was just about picking the play that fit the cast and making sure that it was a play where if we mess up it wouldn't be as visible to the audience and 'Anne Arky' gave us the perfect opportunity to do that," Iyer said.
Iyer emphasized the hours students put into making the play a success.
"We worked until 1 a.m., we got up again at 7 and we worked, we worked, we worked until 4 and then we got into hair and makeup and we got ready for you guys," Iyer said.
Junior Eddie Park starred as Mr. O'Neill, a director exasperated with the chronic misfortunes befalling his play. Like his role, Park became stressed preparing for the play.
"I had 165 lines to memorize. I was freaking out. But then luckily we just drilled it. We were drilling through everything. We just did read-throughs non-stop, staging non-stop run-throughs. And non-stop where it came to the point where I didn't even want to yell anymore," Park said.
According to Park, he loved his time in the production.
"I woke up and my neck was just sore," Park said. "It's relieving to know that it's over, even though it was so much fun."
Faculty Adviser for the International Thespians Society and Principal Kevin Buchanan was impressed with the students' performance.
"They didn't leave this building for 24-hours, they came in at 5 o'clock, slept in [the pavilion], we did open the showers [in the] morning and I think some of them used the locker room and showers," Buchanan said. "There was nothing in here [the day before the play], they came in and built the set."
Junior Delaney Dauchy got the chance to see the show and was quite impressed with the short production time
"I absolutely loved it! It almost seemed like they had been putting on performances for months by that point, but it had only been twenty-four hours. The hard work put into the play definitely shows." said Dauchy
About the Contributor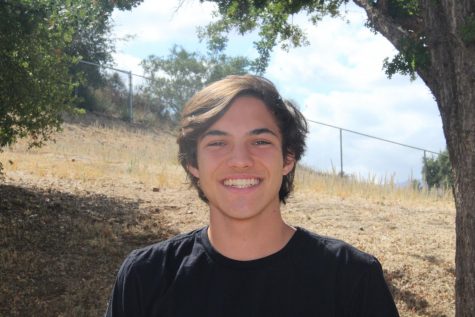 Preston Green, Senior Staff Writer
Preston Green served as a senior staff writer for the 2019-20 school year.