Sustainability program expands its message through new project
#NoWasteWeds comes to Oak Park
Refuse. Reduce. Reuse. Recycle. 
These four words are flourished on banners around Oak Park High School, accompanied by hashtags like #OPSustains and #NoWasteWeds. An array of old Talon newspapers act as the backdrops for these phrases. 
These posters serve to promote an upcoming school event called No Waste Wednesdays. With this program, students and staff will be encouraged to generate as little trash as possible every single Wednesday.
"We are suggesting containers and utensils that are reusable, resulting in our custodians having an easier job that day and keeping our campus clean," Science teacher Winnie Litten wrote in a Google Doc describing the process. 
No Waste Wednesdays starts next week on Jan. 29 and is slated to continue throughout the rest of the year.  Each day will share the spotlight with an endangered species. The koala will be the headliner of the first event. 
"We hope to eventually raise some funds [through No Waste Wednesdays] to donate toward the Australia fire fight," Litten wrote. 
In the past couple of years, the push for sustainable education at OPHS has instigated change across campus. At the beginning of the 2019-2020 school year, math teacher Robin Midiri emailed teachers and OPUSD district members with the goal of forming a cross-curricular program on climate change and sustainability. 
"[The] idea occurred to me as a person who will possibly be a future grandmother, just thinking about our future generations and understanding from the math side, how finite our resources are," Midiri said.
The program focuses on goal No. 12 of the UN Sustainable Development Goals, which calls for responsible consumption and production. No Waste Wednesdays is the latest extension of Midiri's plan. 
No Waste Wednesday's practice of sustainability can be found even within the banners themselves. Art teacher Anna Mendez, who crafted the posters with her student teacher John, found switching to a no-waste policy relatively easy. 
"We didn't have to buy anything," Mendez said. "If the [newspapers] fly away or are thrown away, they can just be recycled."
In her document, Litten outlined what students can do to make a difference with this cause.
"Be a leader: model [No Waste Wednesdays]! " Litten wrote. "This will hopefully motivate others to do the same — we can encourage one another!"
About the Contributor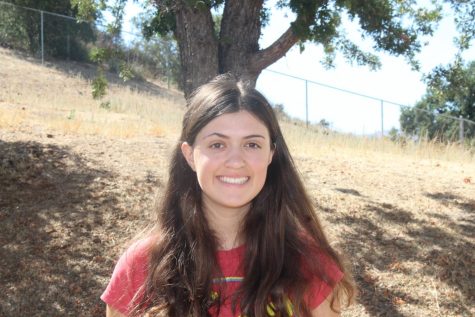 Shoshana Medved, Public Relations Manager
Shoshana Medved served as the Public Relations Manager for the 2019-20 school year.