Moorpark College courses offered at OPHS
Intro to Business, Intro to Criminal Justice now available during eighth period
As part of a new dual enrollment program, two Moorpark classes were available for students to take during eighth period on Mondays and Wednesdays: Intro to Business and Intro to Criminal Justice. 
The classes start at 3:30 p.m. and end at 5:20 p.m. and are scheduled for the Spring semester. The classes began on Jan. 13. Students can decide whether they want to put the classes on their high school transcript for 10 elective credits or elect to only have a Moorpark transcript for college credit. All students in the class will have a Moorpark transcript no matter what; it is whether they choose to also include the class on their OPHS transcript.
To sign up for these classes students register for Moorpark College, and specify that they are still high school students, and then select the class they want.  
"I am hoping that students see this as an opportunity to explore and access different fields and topics we don't necessarily have here at the high school," Assistant Principal Natalie Smith said.
Junior Thea Zlatkov, who is taking Intro to Criminal Justice, chose to take the class because she's interested in a career centered around the criminal justice
"I want to spend time taking classes that matter to me and I enjoy learning about," Zlatkov wrote to the Talon.
The Intro to Criminal Justice class covers a broad range of topics including an overview of the criminal justice system and its relationship to American society as well as the history and philosophy of American Community Policing and the impact of the criminal justice system.
"It's a really interesting course, I think it's good for everybody to have a little bit of foundation for Criminal Justice because it affects all community citizens," Intro to Criminal Justice professor Silvina Minero said. "We don't just talk about criminal justice and law enforcement, we talk a lot about psychological factors and sociological reasons and the theories that are behind criminal behavior and criminal activity.
This is Minero's second semester teaching this class, she previously taught it at Calabasas High School and is also currently teaching it at Agoura High School. According to Minero, she really likes OPHS and hopes to come back in the future and teach it again.
"I'm really fortunate to be able to be a part of this because I think it's just starting right now for Moorpark College and I think it's really exciting to be on the forefront of it and see where it goes and I hope to be with it for a long time," Minero said.
Smith hopes students use this as an opportunity to experience college courses and what it means to have a professor.
"Learning about that in a safe environment I think is definitely one of the advantages," Smith said.
Minero also believes dual enrollment is important because it gives high school students a small introduction into college.
"I really try and format this class to help, like a stepping stone, and to just help be a guide and a mentor through that process so that when students really do get to more college and university level courses, they have a little bit of an idea of how it's working," Minero said.
Intro to Business is taught by professor Anafe Robinson. Junior Jonathan Qin decided to take this class because of his interest in business.
"I wish to major in business in the future and I felt this class would allow me to see what business was all about," Qin wrote. "As an aspiring business major, I feel like the class is actually really beneficial so far. I enjoy reading and learning about the material."
The administration sent Moorpark a list of classes they thought students would be interested in and based on availability the two classes were chosen. In addition, they hope to offer more Moorpark classes next school year
"I hope students learn about some of these paths that might be in their future," Smith said.
About the Contributors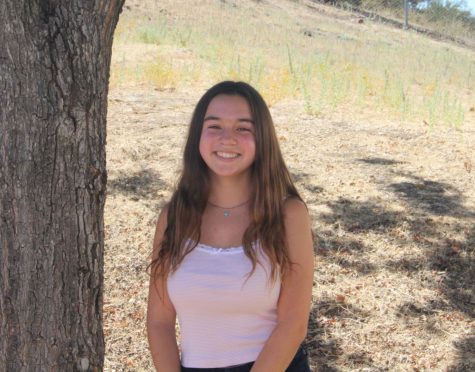 Emily Francis, News Editor
Emily Francis is a junior at Oak Park High School. She is currently one of the 2019-20 News Editors, served as one of the 2018-19 News Editors and was...