Kobe Bryant's helicopter crashes, leaves 9 dead
The local effect of the death of Kobe Bryant
Salary caps, luxury taxes and personnel changes. Just a few reasons why any NBA player would never want to stay in the same city for too long. It takes a special type of player to be able to play in the same franchise for 20 seasons. The player would have to first be drafted by a top franchise and be an instant contender and win a couple of championships. It sounds like a lot of work, but that is exactly what Kobe Bryant did to stay in Los Angeles — and a big part of the reason Los Angeles is now in mourning for his loss.
On Jan. 26, Kobe Bryant, daughter Gianna Bryant, John, Keri and Alyssa Altobelli, Christina Mauser, Ara Zobayan, and Sarah and Payton Chester died after Bryant's helicopter crashed on a foggy Sunday morning.
The helicopter was on its way to the Camarillo Airport. From the airport, the group was planning to go to a basketball tournament held at Mamba Sports Academy in Newbury Park.
An outpouring of condolences for those who perished and support for the Bryant family has been seen worldwide, especially from NBA players who knew and admired Bryant.
"There are moments in life when there's simply NO words to describe the pain within. This is one of them. YOU will continue to be loved. YOU will be missed. YOU will forever be remembered," Portland Trail Blazers power forward Carmelo Anthony wrote in an Instagram caption.
Jayson Tatum, a young star Bryant mentored, expressed his condolences through an Instagram caption accompanied by a photo of Tatum as a young boy with Kobe, wearing his jersey.
"The reason I started to play this game, the reason I fell in love with this game. Growing up wanting to be just like you, to you becoming a mentor, beyond thankful for everything you've done for me … You inspired me and I am forever grateful more than you know!" Tatum wrote.
Sentiments of sadness, loss and admiration are echoed by athletes in Oak Park.
OPHS Boys Varsity basketball star Clark Slajchert idolized Bryant growing up.
"Obviously, growing up in LA, Kobe is like a huge basketball symbol of success when it comes to basketball, Slajchert said. "It's pretty much the blueprint – you play basketball in LA, you want to be like Kobe."
As he grew up, Slajchert started to appreciate Bryant for his work ethic.
"I wanted to basically just do whatever he did. And I realized that when you work hard, like Kobe, everything else kind of falls into place, because you fall in love with working hard. And the success comes because of a work ethic," Slajchert said. "So yeah, I've always idolized Kobe ever since I was wearing his jersey when I was 5."
Kendall Chock-Wong, OPHS varsity girls basketball player, believes Kobe allowed her to grow closer to her family.
"Kobe Bryant was my father's favorite player and a way for me to bond with him and my other, much older siblings ultimately inspiring me to play basketball at a young age," Chock-Wong said. "I remember the first Jersey I ever got was an old #8 jersey of his, which I refused to take off for at least a year and ultimately making me a forever Laker fan."
To her, his legacy will be that of a tremendous advocate for women's basketball.
"A man who has changed the game of basketball and supported women's equality in the sport is one that should and will be forever remembered," Chock-Wong said.
Student-athletes in Oak Park were personally affected by Bryant's death because they train at Mamba Sports Academy and play basketball there.
"After the owner of the [gym] had heard [of Kobe's death], he stopped the games and the entire gym took a moment of silence. I have always looked up to Kobe and what he stood for," wrote Medea Creek Middle School eighth-grader Lindsay Gould, who was playing in a basketball tournament at Mamba at the time of the helicopter crash.
Gould has run into Team Mamba, the eighth-grade girls' basketball team Kobe coached, during tournaments and was impressed with Kobe's approachability.
"After a game, I went up to him to say hi and when I did, we actually got to talking a little bit about that game and basketball in general. He gave me some advice and was super kind," Gould wrote.
Gould was crushed to hear the names of the deceased because she personally knew many who died in the crash.
"Some of the other people who passed in the crash including Coach Christina, Peyton, and Alyssa were always so nice and play[ed] as hard as they could," Gould wrote.
Gould wants to honor the memories of the deceased by continuing the 'Mamba mentality' they all practiced.
"I don't know where I would be without Kobe Bryant, he is such an inspiration. Kobe wouldn't want basketball players to quit, he would want them to get back in the gym and work as hard as they can. That is exactly what I am going to do," Gould wrote.
Memorials and remembrances have taken place in the days following the tragic crash. John Altobelli, a college baseball coach, was recently remembered in a 'Thank you' letter written by his little brother, Tony Altobelli. Tony's 1,900-word remembrance was read at John Altobelli's college team season opener on Jan. 28.
Matt Mauser, the husband of Christina Mauser, has spoken up to multiple news sources about his wife and the legacy she left behind.
"It's horrible. I've got three small kids, and I'm trying to figure out how to navigate life with three kids and no mom," Matt Mauser told "Today" in an interview.
On Feb. 5, Gianna Bryant's No. 2 jersey was retired by Harbor Day School in Corona Del Mar. Her mother, Vanessa Bryant shared the ceremony on her Instagram which she made public a few days after the crash.
"My Gigi. I love you! You've taught us all that no act of kindness is ever too small. Mommy is still and will ALWAYS be so proud of you Mamacita," Vanessa Bryant's Instagram post read.
A celebration of the lives of Gianna and Kobe has been announced and will take place at the Staples Center on Feb. 24 — the second month of the year to symbolize Gianna's jersey number, the 24th day to symbolize Kobe's jersey number throughout the second half of his career.
Even while struggling with Bryant's loss, people are still inspired by his life and live by the Mamba Mentality.
"Have a good time. Life is too short to get bogged down and be discouraged. You have to keep moving. You have to keep going. Put one foot in front of the other, smile and just keep rolling," Kobe Bryant said in 2008.
About the Contributor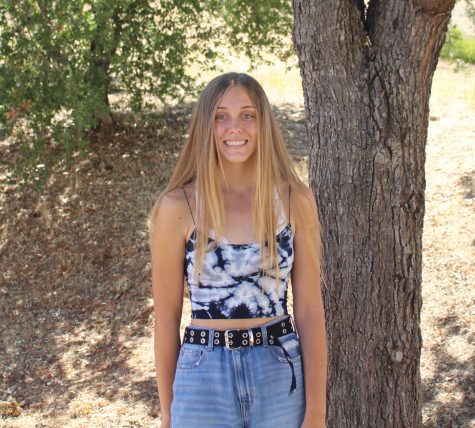 Lucy Anne Heine-Van Fossen, Senior Staff Writer
Lucy Anne Heine-Van Fossen joined the Talon in the 2018-2019 school year as a Staff Writer and served as a Senior Staff Writer in the 2019-2020 school...