An open letter to the class of 2020
Good morning to the Class of 2020,
I want to start by saying I probably have no authority to be writing this letter. I am the stereotypical nerd of high school. I balance chemical equations because I find them to be stress relieving (yes, I still do them) and I read international policy for fun since who else finds North Korea interesting. I was never the kid that went out on Saturday night; I'd rather have done math. I should add that I accidentally fell in love with my best friend. Perhaps the only normalcy in my high school story.
I am the typical nerd that you see in all the high school movies; I am not the typical 21st-century high school teen. However, as I came up on my last semester of high school, I wanted to change that for myself.
Starting March 3, as my mom literally told me, we started to plan ditch days, mini road trips and travels all over the world to fill the time. I was ready for prom, senior activities and graduation. Furthermore, I was ready to go to Europe for a whole month.
But, there was always something lingering in the back of my mind. The world first heard about COVID-19 in December. And, we how it was spreading. However, why would I let a little virus that caused flu-like symptoms to get in the way of my activities?
I think that is what we all asked ourselves. We all continued to buy prom dresses, plan summer trips and talk about commitment day like it was around the corner. The tests kept coming for all of us and never really occurred to us what was happening. Then all of a sudden, there was rampant talk about shutting down the school. We went from a normal lifestyle last Wednesday to shut down schools on Friday. It was a quick 180 that none of us were ready for.
We were told maybe one week, two at best. That is fine, one week to sleep and hang out (six feet apart) and all would be okay. Underclassmen posted pictures with the caption of #coronacation. But what they did not realize is that the seniors were not thinking like that.
There was something in the back of all of our minds. The possibility that Friday, March 13, was our very last day of high school and we did not even know it.
Nobody hugged, nobody cried. It was no different than any other day. I mean, I took tests that day. It was not until Sunday that, for so many of us, it felt that our year had been taken away from us.
The year of 2020, the roaring '20s and that vision was gone. If you are anything like me, this did not hit you in any way, shape or form in the beginning. I had not even cried or felt sad. I felt miserable about nothing to do but that was it. It was not until my best friend Blake told me he could not ask me to prom anymore on the ice rink with the hockey net (because the ice rink was closed because of Coronavirus) it hit me.
There are moments for everyone when reality hits. Some believe there is a curse on the class of 2020, but I believe there is a robber. Someone who is trying to rob us of all our fun — we never catch a break.
Coming up on these last months, I just wanted to hang out with all my friends as we disperse around the country, spend the last fleeting moments with Blake before I moved 5,000 miles away and spend stupid amounts of time doing dumb things. I know that I am not alone in that feeling.
I do not know what to tell you, class of 2020. My dad consistently tells me that once this blows over he will ensure that I get to wear my prom dress and walk for graduation but it will never be the same without everyone else. Everybody is like, 'you are part of living history' and that 'your reaction makes history.' There are historical moments that I want to be a part of and this is not one of them. Saying we are part history is not the answer for any of us seniors. The history we wanted was being the first graduating class of the decade with all activities intact and on time.
This was not the story we wanted to tell our grandchildren or children. To all the non-seniors, never ever post a picture with the caption coronacation. It is not funny. To all the parents of seniors, try and keep the morale high. When we get into a college, please help us celebrate … make us a cake or our favorite meal. And to the seniors, while this is NOT the story we wanted to tell, I guess it will be the story we do tell, and well, it is a wild one. My very best advice to you is to use the time wisely and still try to create positive memories.
We no longer have to ditch because now learning time is flexible. The beach is still accessible as is all of nature. Drive around. Get lost with the windows rolled down. Enjoy being 18 and 17, even now. Just be safe and maintain social distancing.
Nobody will ever understand this loss as we do. This is our new story. Pray the curve will be flattened before all our activities because that is what I keep doing.
Sincerely,
Your stereotypical high school nerd.
About the Writer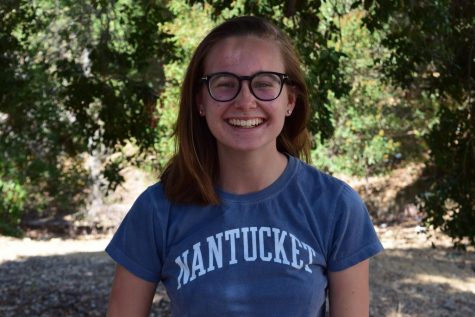 Alex Goldbeck, Editor-in-Chief
Alex Goldbeck is a senior at Oak Park High School. She is currently the 2019-20 editor-in-chief, and served as the 2018-19 photo editor, the 2017-18 opinion...