Heroes in the midst of uncertainty
The unsung helpers of COVID-19
During the craziness of the pandemic, nurses, doctors and many health officials are putting themselves on the frontlines of the fight against COVID-19. But, there are other uncredited heroes on the frontlines as well: young adults.
According to scientists, the virus hits the elderly the hardest. With that knowledge, they are being asked to stay at home and shelter in place because of the fear that they could get sick. The question becomes: how do they get groceries and essential items? That is where young adults come in —grabbing grocery lists from and braving the stores during the early hours of the morning to get essential items for those stuck at home.
"There are a lot of citizens near where I live who don't feel comfortable with running to the store themselves (whether it's because of health conditions, old age or because of young children at home), so I get the groceries after picking up the money and list from their doorsteps and then drop them off after," junior Bailey Andera said. "I also wear and dispose of gloves and a mask after each trip to the store to ensure nothing is transmitted."
For Andera, the idea came from going "stir-crazy" in the house and wanting to do something. She chose something where she could give back to the community. In other cases, some young adults are working with newly founded organizations to get essential items to those vulnerable.
"I'm working with a student-run organization founded by Zoe Monterola and Eric Luo called Six Feet Supplies, where we provide free grocery pickup and delivery to the most vulnerable in our community. Just two days ago, I helped deliver to an elderly couple and a woman who had recently given birth," Valencia High School senior Julianna Lozada said.
Six Feet Supplies has made over 40 deliveries and more than $3,000 worth of groceries. Young adults have a unique situation in the midst of the pandemic since according to CDC they are at lower risk for severe symptoms. Now, that does not mean that high school-aged students should go travel; however, there is an opportunity to help the community while being safer at home.
"The fear and panic that has been invoked in high-risk groups because of the pandemic is really apparent in my community. I joined because I knew that I could use my unique position as a young, healthy individual to provide essential services to those who can't [go out] and need it the most," Lozada said.
Lozada and Andera are just some of the many who are braving the markets and possibly their own health to provide service. However, most young adults doing these services are taking the precautions necessary such as masks and gloves as well as sanitizing all groceries.
"Our hearts have been full and we have been grateful for the compassion and caring that our younger neighbors have shown us," Darlene Weege, who is in a vulnerable group, said.
Weege, like many others in these vulnerable groups, has also taken advantage of new hours of many grocery stores like Vons and Trader Joe's, which include early morning hours for the vulnerable. Most are between 7 a.m. and 9 a.m. to limit the number of people in the store.
"We have younger neighbors shopping for us occasionally for a few items that we need. But for bigger shopping needs we go to the senior citizen hours, [from] 7 a.m. – 9 a.m. at Vons," Weege said.
But, even just shopping for small items at the grocery stores has made a difference.
"It helps me just as much as them, I think. It helps stave off that feeling of being helpless in all of this, and it gives a bit of relief to some people that really have been in need of it," Andera said. "Whether it's shopping for those who might need help or just reaching out to loved ones and other community members for support, every little gesture is appreciated more than you'd think."
These actions by young people have gotten recognition and gratitude online and in person. However, it is the gratitude of those receiving that make the difference.
"The people we have served have been really grateful for our help during this time," Lozada said.
About the Contributor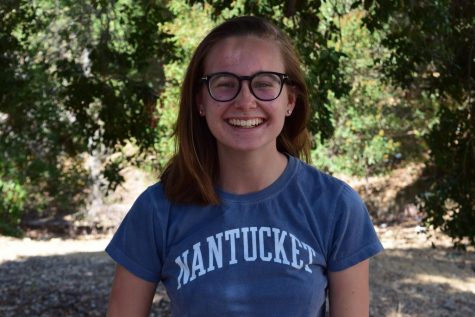 Alex Goldbeck, Editor-in-Chief
Alex Goldbeck joined the Talon in the 2016-2017 school year as a staff writer and became the Opinion Editor for the 2017-2018 school year. She became the...